Cybersecurity outsourcing is a growing trend among businesses that want to protect their data and systems from cyber threats. Not every company has the resources, expertise, or time to manage their own cybersecurity needs. 
This service involves hiring an external provider or a third-party team to handle some or all of the security tasks for an organization. This can include monitoring, detection, prevention, response, and recovery of cyber incidents. That's why Eagle Tech Corp offers a comprehensive and cost-effective solution for cybersecurity outsourcing.
Eagle Tech Corp is a leading provider of cybersecurity services and solutions for small and medium-sized businesses. We have a team of certified and experienced professionals who can handle all aspects of cybersecurity, from risk assessment and compliance to threat detection and response. We use the latest tools and technologies to protect data, systems, and networks from cyberattacks.
Benefits of outsourcing cybersecurity with Eagle Tech Corp
– Reduced costs: businesses don't have to invest in expensive hardware, software, or staff training. We offer flexible and affordable plans that suit any budget and needs.
– Improved security: get access to our security operations center, where we monitor and respond to any cyber incidents 24/7. We also provide regular reports and recommendations to improve the security posture.
– Enhanced productivity: focus on the core business activities without worrying about cybersecurity issues. We take care of everything, from installation and maintenance to updates and upgrades.
– Peace of mind: rest assured that the data and systems are in good hands. We follow the best practices and standards in the industry and comply with all relevant regulations and laws.
If any businesses are interested in cybersecurity outsourcing with Eagle Tech Corp, please contact us today. We will assess the current situation and provide a customized solution that meets different goals and expectations. Don't let cyber threats compromise business success. Let Eagle Tech Corp take care of cybersecurity needs!
Keep in touch with our blog to read the latest news and innovations in the cybersecurity world.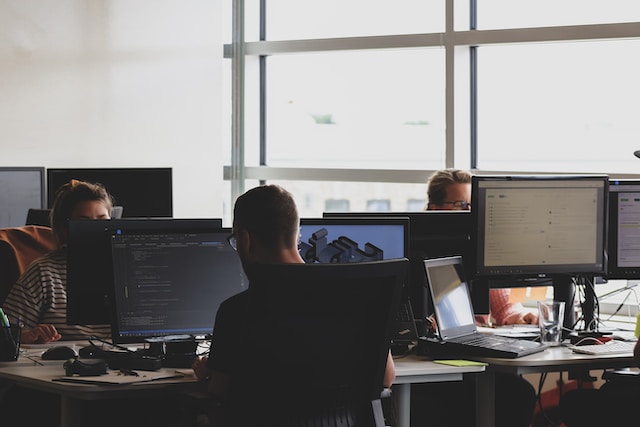 Photo by Sigmund on Unsplash.
Facebook: Eagle Tech Corp
Instagram: @eagletech_corp
Twitter: @eagletechcorp
LinkedIn: Eagle Tech
YouTube: Eagle Tech Corp